Braces, Invisalign & Myobraces in Penang
Say goodbye to crooked teeth and hello to a confident smile with our orthodontic treatment options.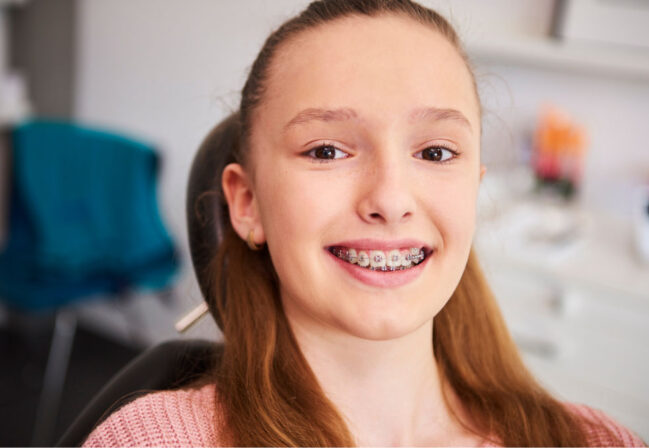 More Than
Just A
Cosmetic Fix
In addition to the cosmetic benefits, wearing braces can provide various advantages such as straightening and aligning teeth for a healthier and more attractive smile. Braces also improve your oral health by making it easier to clean teeth.
Interceptive Orthodontic Treatment
(Pre-Orthodontic Treatment)
Interceptive orthodontics is defined as any treatment procedure that eliminates or reduces the severity of developing malocclusion. Interceptive orthodontics aims to provide early intervention for detected issues and try to fix these developing problems earlier rather than later.
At Skye Dental Penang, we provide the Myobrace® System as one of our pre-orthodontic treatment options. The Myobrace® treatment involves using a series of removable intraoral appliances worn for 1-2 hours each day plus overnight while sleeping.
Corrects poor oral habits such as mouth breathing
Develops & aligns the jaws
Optimizes facial development
Promotes healthy eating habits
Our Range of Brace Options
We offer a variety of braces options to fit your unique needs and preferences. From conventional braces to clear aligners, our experienced dentists will help you find the perfect fit for a straighter, healthier smile.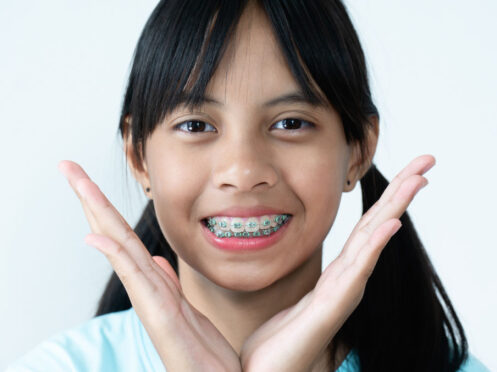 Colorful ties

Metal or ceramic option available

Review/adjustment every 1 month

Takes between 2-3 years to complete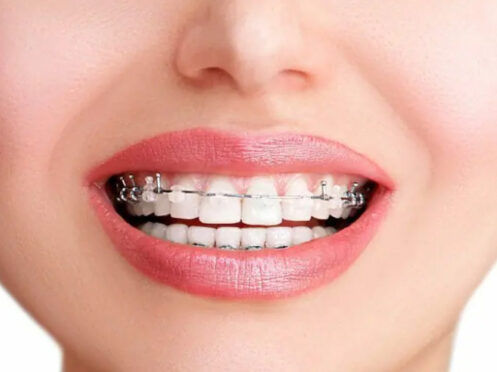 Able to do expansion

Might not need to extract teeth

Review/adjustment every 6-8 weeks

Metal or ceramic option available

Faster treatment results

Easier cleaning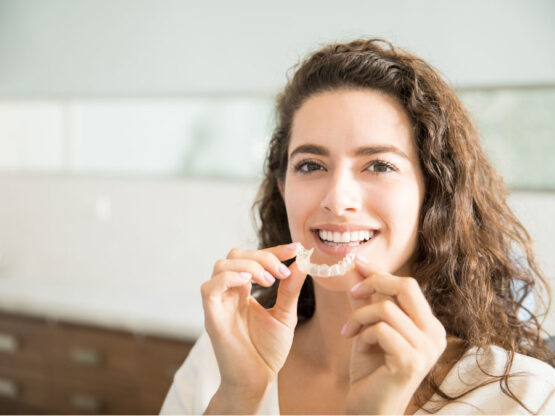 Aesthetically pleasing

No wire poking

Minimal discomfort

Low numbers of the unexpected dental visits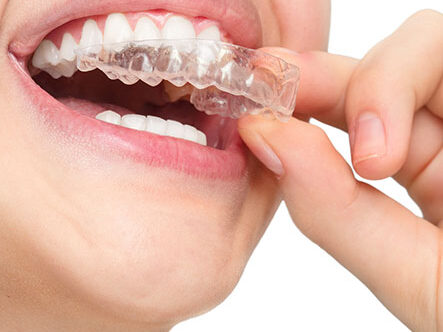 Clear Correct Clear Aligner
Aesthetically pleasing

Can eat with aligners

No wire poking

Minimal discomfort

Low numbers of the unexpected dental visits
Affordable Braces, Invisalign & Myobrace for You
We understand that orthodontic treatment can be expensive, which is why we offer low monthly installment plans to make it easier for you to get the treatment you need.
Our team will work with you to develop a personalized treatment plan that fits your budget and meets your unique dental needs.
We offer various options, including metal braces and clear aligners, so you can choose the treatment that works best for you.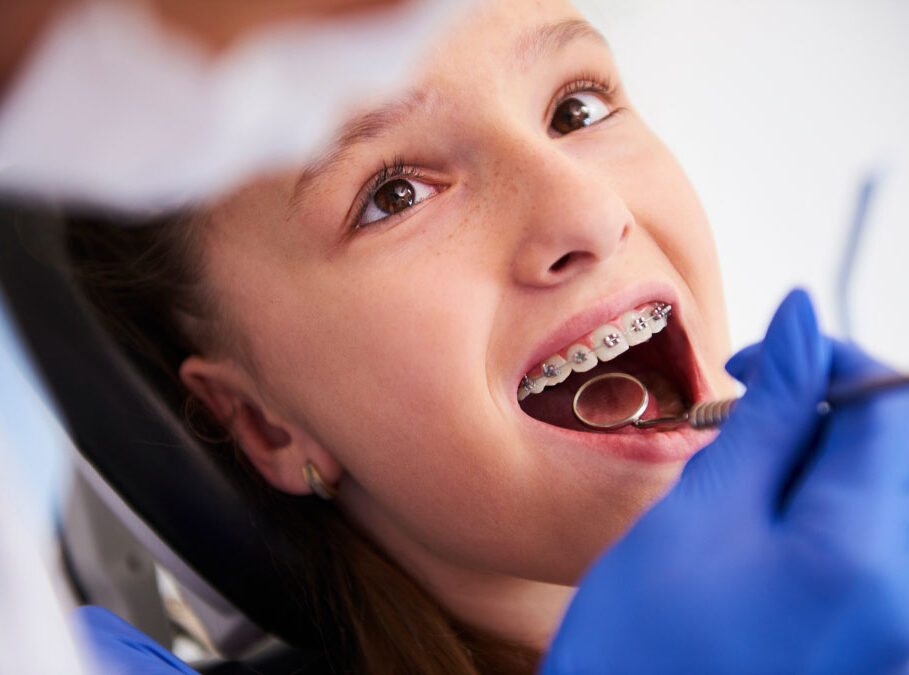 Frequently Asked Questions (FAQ) about Myobrace
How does Myobrace work?
The Myobrace system involves a set of dental trainers that can be easily removed and are worn for 1-2 hours every day and overnight while sleeping to help correct myofunctional habits.
When used in conjunction with daily tongue and facial exercises, these trainers help reorganize the muscles and renew muscle memory.
By harnessing the body's natural resources, the Myobrace system can aid in the development of the jaws, improve airway opening, and promote natural teeth alignment.
What is the best time to start Myobrace therapy?
Myobrace system offers greater flexibility and can be used in children as young as 3. It is best to let your dentist examine the condition of your child and follow the recommendation of your doctor.
Is Myobrace safe to put in the mouths of kids?
All Myobrace products are made from safe, biocompatible, BPA-free, medical-grade silicone to ensure their safety and effectiveness. You can purchase Myobrace for kids from our dental clinic in Penang.
Who is not suitable for Myobrace?
The Myobrace system is not suitable for individuals with severe skeletal discrepancies or significant malocclusions.
As Myobraces is a removable appliance, it needs good compliance to maximize its benefits. Therefore it might not be suitable for individuals with poor compliance.
Does it hurt?
Compared to traditional orthodontics, the Myobrace system utilizes a gentler approach to move teeth and reposition jaws. By working and training the muscles from their habitual position, the Myobrace system may cause only a minor level of soreness initially, which gradually decreases with continued use.
How long does treatment take?
At Skye Dental Penang, our doctor recommends 1-2 hours per day and overnight use of Myobraces. We request that your child not wear the appliance to school but at home when doing homework, playing games, or watching TV.
Frequently Asked Questions (FAQ) about Braces
Do braces hurt?
The truth is that there is no need to worry about it because the process of putting on braces does not hurt at all.
However, a little tenderness or mild pain is a normal side effect after the wire adjustment appointment. The discomfort typically disappears within four to seven days.
Do self-ligating braces less painful?
The self-ligating clear braces are claimed by their makers to be less painful and faster in most cases than traditional metal braces.
This is because self-ligating braces move your teeth gently without applying intense pressure on your teeth.
Is there any food I cannot eat while I have braces?
Generally, we do not have strict food restrictions as we hope our patients have a balanced diet. However, reducing intake of sticky and sugary foods is encouraged as they might cause caries or dislodge of the bracket.
How long does this orthodontist treatment take?
The length of orthodontic treatment can vary depending on the severity of the dental condition.
Most orthodontic treatments take between 1.5 - 3 years to complete, although some cases may take longer or shorter periods.
Will I need a retainer after removing my braces?
Yes, continuous wear of the retainer after your braces are removed is strongly recommended.
Without a retainer, your teeth may start to shift back towards their original positions, which can undo the progress that was made during your orthodontic treatment.
Will wearing dental braces make it difficult to participate in sports?
Wearing dental braces should not necessarily make it difficult to participate in sports, but it is important to take some precautions to protect your braces and your mouth while playing sports.
It is important to wear a mouthguard for contact sports or any activity with a risk of getting hit in the mouth.
Transform Your Smile with Our Affordable Braces
Straighten your teeth and achieve a beautiful smile with our orthodontic treatment options in Penang. Schedule a consultation today!